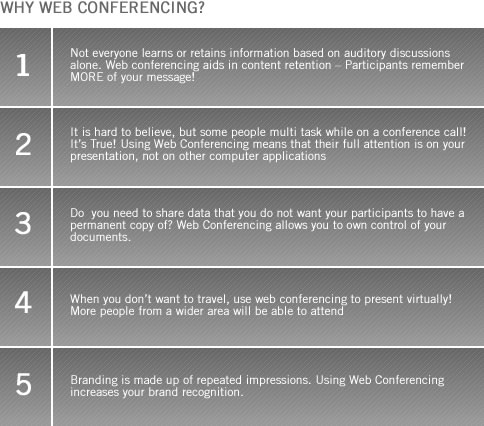 What you can do with Web Conferencing?
Facilitate Presentations with PowerPoint
Share your desktop including specialized software like AutoCAD, Visio and Adobe
Demonstrate your proprietary software including billing systems, invoices and customer management tools
Record your presentations for a later date to archive in a resource library or for guests who could not attend
Make your presentations interactive by drawing and highlighting information
Pass control of the web conference to another participant and allow them to share their applications and desktop with others!
For the TV & Internet Generation, Web Conferencing is important to holding your participants attention. Visuals are an important part of making your message memorable.
For a free Web Conference contact us at sales@reciteconferencing.com.